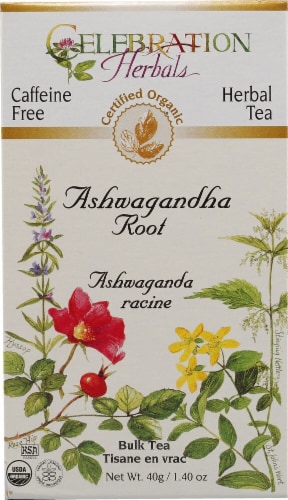 Hover to Zoom
Celebration Herbals Organic Herbal Tea Caffeine Free Ashwaganda Root
Product Details
About Ashwagandha ...
Also known as "Indian Ginseng" and "Winter Cherry," Ashwagandha is used extensively in Indian healing systems (Ayruvedia). It grows wild along the edges of rice patties and roadsides in many areas of India and is now cultivated in some parts of the United States. Medicinally, its effects are comparable to only a handful of the most potent herbs such as Asian Ginseng or Echinacea, but it''s gentle enough on the human system that even children can use it.
It all starts with the herbs. Celebration Herbals is dedicated to bringing you the best tasting teas, grown and processed as close to "the way nature intended" as possible and never irradiated.
Our herbs are grown and harvested with the highest standards of quality control. You can trust our new special designations - Certified Organic, Ethically Wildcrafted, and Pure Quality.
We are committed to the environment. In this box you won''t find any strings, tags, or staples in our chlorine free bags. In addition, our boxes are made from 100% recycled board. A resealable freshness bag is used to extend the quality and life of your tea.
We hope you enjoy the beneficial pleasure of drinking these teas as much as we have enjoyed blending, hand crafting and packaging them for you.
Herbally Yours,
Celebration Herbals
---