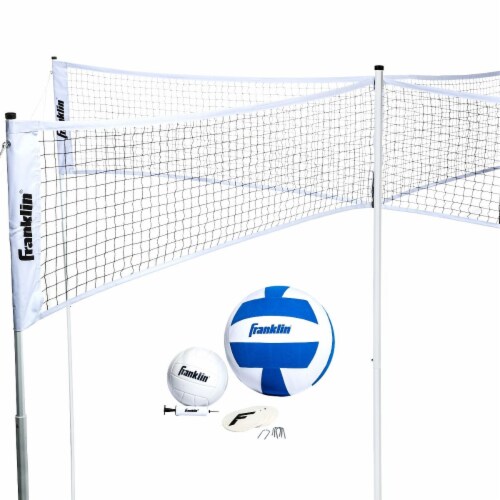 Hover to Zoom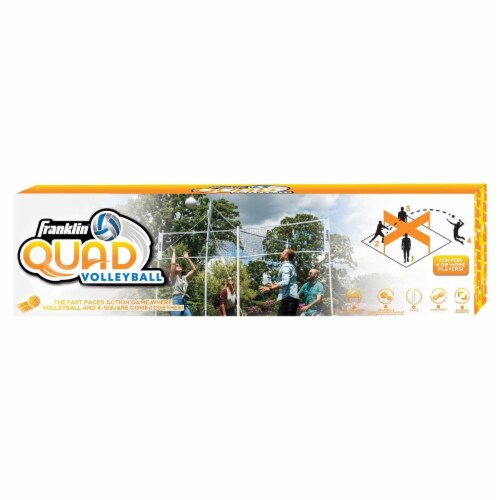 Hover to Zoom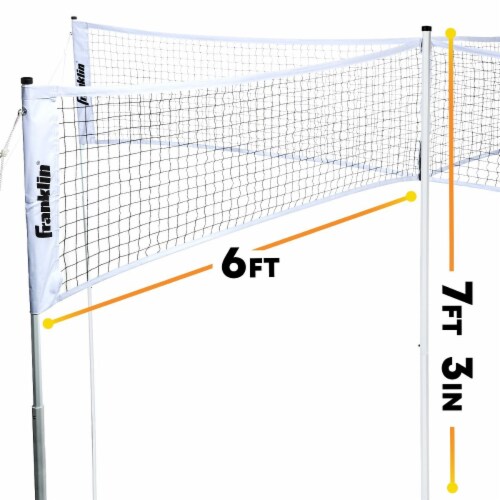 Hover to Zoom
Franklin® Quad Volleyball Set
Product Details
Quad Volleyball from Franklin Sports is a new twist on a classic backyard volleyball game. The concept combines the concept of volleyball and 4-square and is fast paced and entertaining for all age levels. Start with 4 players or more and take turns rallying each point. In this exciting game, if you miss a hit, pass or serve you are out and then everyone will rotate clockwise. Points are only scored when serving and each player is responsible for his 6 x 6 foot square. Gameplay is to 11 points, winning by 2! The set includes (5) poles, a quad shaped net, 1 traditional volleyball and 1 jumbo 16in volleyball. In addition, all guide ropes, stakes and court boundary marking kits are included. Take your volleyball play to the next level with this exciting new game-don't forget to pack it for your next party, picnic or BBQ!
CREATE new memories with the hottest game out there! Don't leave home without your QUAD VOLLEYBALL again, your friends and family will love it too!
QUAD VOLLEYBALL is where the sport of volleyball and 4-square meet up. This new twist on a classic is easy to learn and hard to stop playing. Everything is included to get you going in the right direction!
HOW DO YOU PLAY? The court is broken up into 4 quadrants. The ball is served diagonally and rallying begins. Once the ball is mis-played, that player leaves their square and returns to the first square. All other players rotate clockwise.
DOUBLE THE FUN is bound to happen when 2 volleyballs are included! (1) traditional size volleyball is included as well as a jumbo 16in fun sized volleyball. Take turns switching the ball up when new players enter the game to keep the fun going!
COMPLETE SET includes all that you need! (5) 7ft 3in high poles, (1) Quad Net, (4) guide ropes and stakes, (1) boundary kit. One traditional sized PVC volleyball and one 16in jumbo cloth covered volleyball completes the set.
---