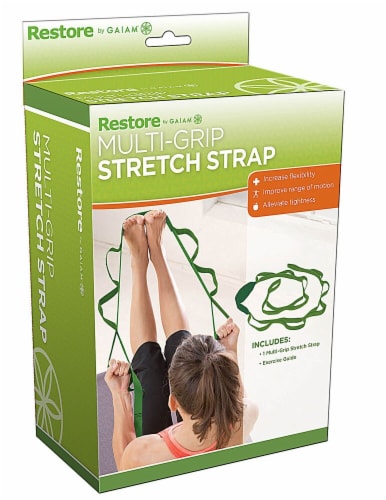 Hover to Zoom
Gaiam Restore™ Multi-Grip Stretch Strap
Product Details
Work Your Way To Your Best Self
Our bodies are amazing. They run, jump, dodge and warrior-pose through everything life throws at them. And sometimes they need a little TLC. At Gaiam, we know the importance of strong, healthy bodies. That''s why our Gaiam Restore line has all the tools you need to prevent injury and rejuvenate to full-body healing. So you can stretch, massage, strengthen and flex your way to the strong, powerful, amazingly healthy person you were always meant to be.
Gaiam Restore
Say Yes To A Stronger, Healthier You
Multi-Grip Stretch Strap
Make daily activities more pain-free. Improve range of motion, alleviate muscle tightness and improve posture with the Multi-Grip Stretch Strap. No matter what your level of flexibility may be, the multiple hand-holds along the strap allow increasing degrees of stretch, allowing you to progress and increase your range of motion.
Stretch and Strengthen Muscles
Includes:
Multi-Grip Stretch Strap
Exercise Guide
---