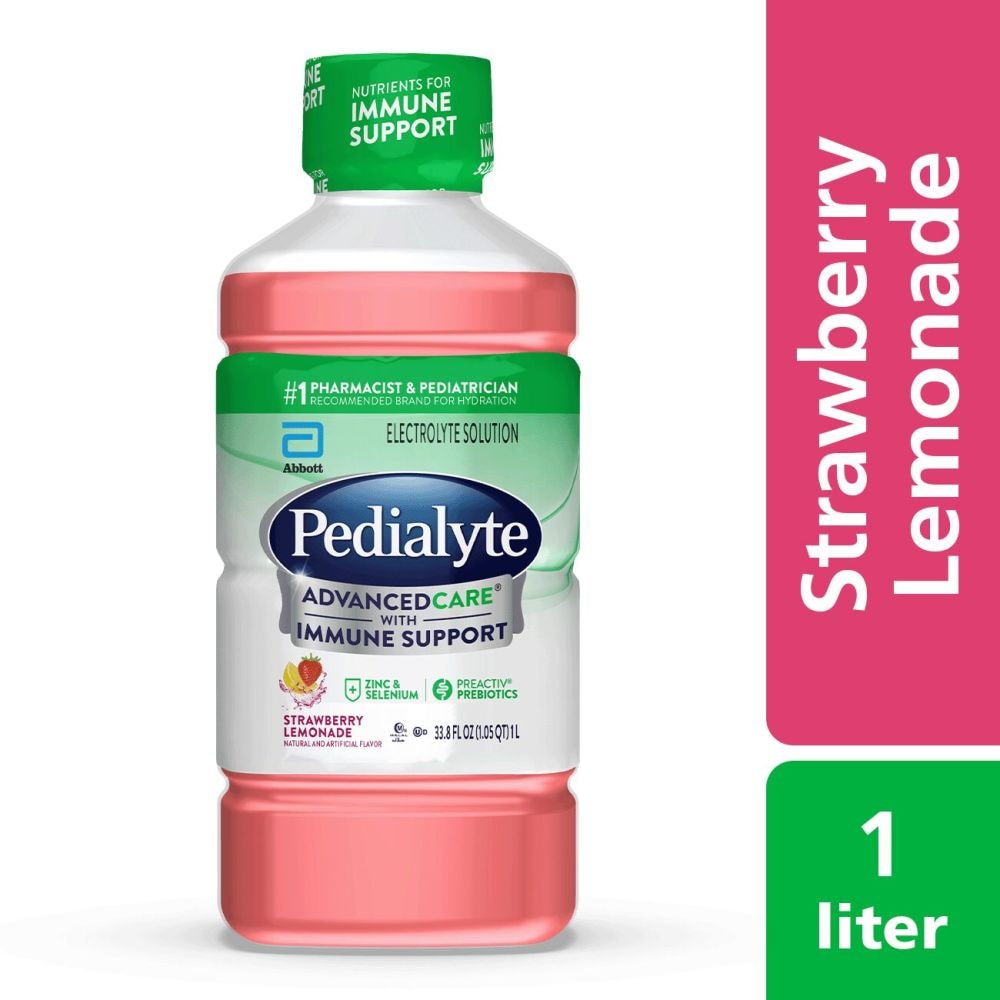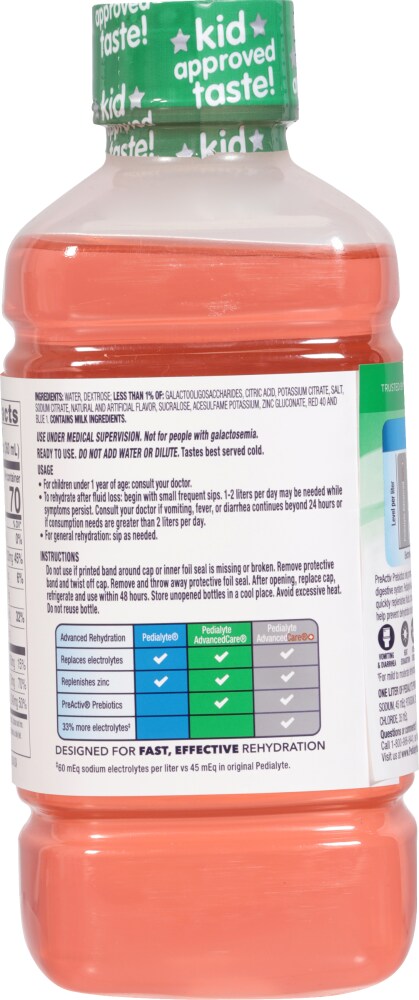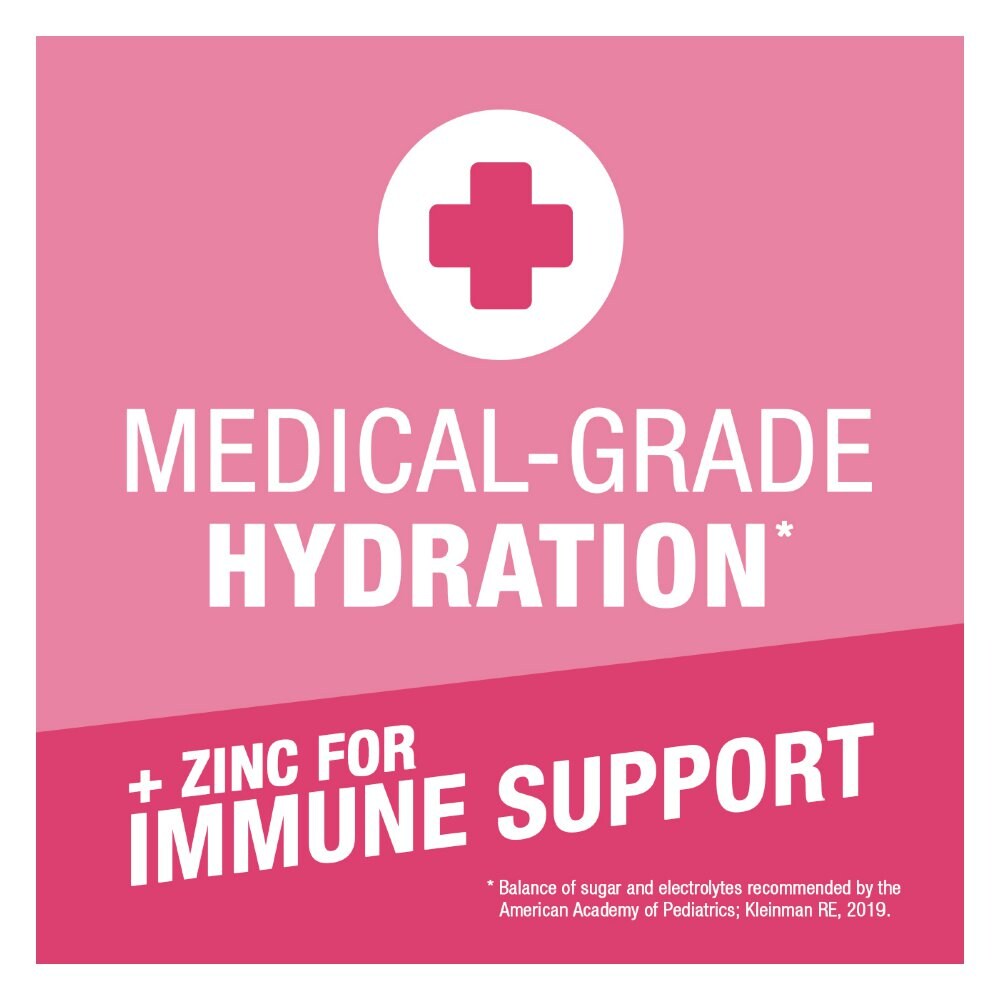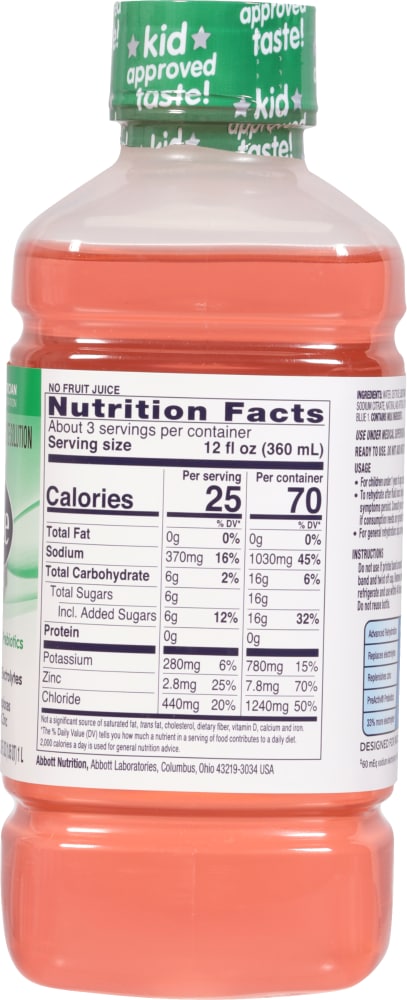 Pedialyte AdvancedCare Strawberry Lemonade Ready-to-Drink Electrolyte Solution
33.8 fl oz
UPC: 0007007464302
---
PEDIALYTE ADVANCEDCARE is an advanced rehydration solution specially formulated with PreActiv Prebiotics to help promote a healthy digestive system.* With an optimal balance of sugar and electrolytes, it helps replenish vital fluids and minerals which, when lost, can lead to dehydration. It can help prevent mild to moderate dehydration caused by vomiting, diarrhea, exercise, travel, and heat exhaustion.*
DIGESTION SUPPORT: Includes PreActiv Prebiotics that can help promote a healthy digestive system by restoring the balance between good and bad bacteria.*
REPLACES ELECTROLYTES: A flavorful way for kids and adults to replace electrolytes to feel better fast.*
MORE EFFECTIVE THAN COMMON BEVERAGES: Designed to replace fluids & electrolytes more effectively than sports drinks, Pedialyte provides an optimal balance of sugar & electrolytes to prevent mild to moderate dehydration.* It's medical-grade hydration.
TRUSTED BRAND: #1 pediatrician* and pharmacist-recommended brand.* For over 50 years, Pedialyte has been the go-to rehydration drink (*Among pediatricians and pharmacists surveyed, respectively (2017). Data on file with manufacturer).
GREAT-TASTING FLAVORS: Enjoy Pedialyte liters, powder packs, and freezer pops in 17 refreshing flavors.
*These statements have not been evaluated by the Food and Drug Administration. This product is not intended to diagnose, treat, cure, or prevent any disease.
---