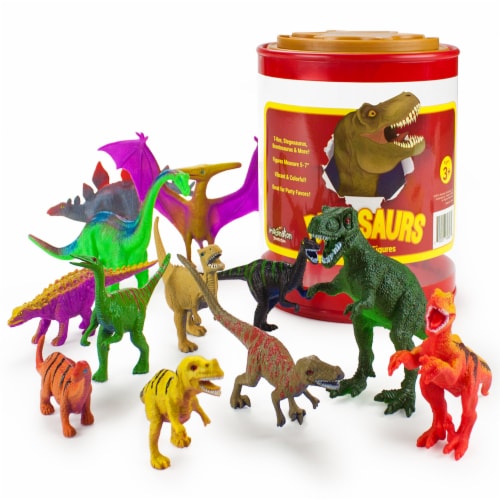 Hover to Zoom
Set of 12 Large 7" Dinosaur Toys with Storage Drum
Product Details
JURASSIC PACK: 12 unique dinos with vibrant colors. No repeats! GIGANTO-SIZED: Mighty minis! 4.5" tall T-Rex, 7" long Brachiosaurus and Pterodactyl, and no dinos less than 4" long PREHISTORIC PLAY: Add colorful dinos to any playset! Perfect for imaginative play for boys and girls alike DURABLE DINOS: Made from durable, flexible, long-lasting vinyl, sure to keep your dinos from extinction TAKE 'EM ANYWHERE: Bring them to a friend's house, take them on a trip, or simply store them in the convenient storage drum
Pretend you're in prehistoric times with this 12 pack of jumbo dinosaurs. Or, add some dinos to your other toys and imagine up entire new worlds! Drum up a little excitement in your old play sets. Toy cars and plastic tracks a little tired? Add a T-Rex! Your wooden train town a little too peaceful? Throw in a pack of raptors!
As big as 7 inches long and 4.5 inches tall, made from durable, flexible, long-lasting vinyl, and painted with vibrant, showy colors, these are dinosaurs you'll want to show-off. And thanks to the included storage drum with convenient carry handle, it's easy to pack them up and take 'em with you!
The dinos included in this set are: Tyrannosaurus Rex, Stegosaurus, Brachiosaurus, Pterodactyl, Utahraptor, Apatosaurus, Velociraptor, Gallimimus, Silvisaurus, Allosaurus, Ischisaurus, and Torvosaurus.
---