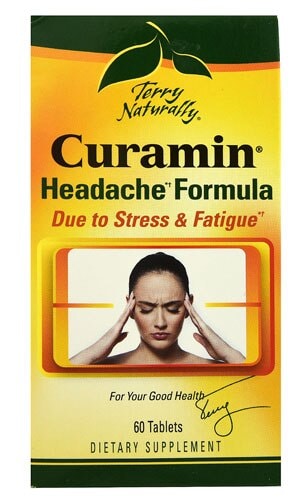 Hover to Zoom
Terry Naturally Curamin Headache Formula Tablets
Product Details
Curamin® Headache Formula combines the successful ingredients from the trusted, award-winning Curamin with additional nutrients for targeted, safe, and effective relief to help you feel great again.*
It is estimated that up to 80% of Americans deal with occasional headaches due to stress or fatigue. Demanding jobs, hectic schedules and long hours at a computer can contribute to the stress of everyday life. Now, those occasional headaches have met their match!
Amazing Ingredients, Effective Relief!*
BCM-95® Curcumin is better absorbed than plain curcumin.* It provides a primary response to occasional headaches.*
Magnesium supports healthy neurotransmitter activity in the brain, and clinical studies have shown it bring relief occasional headaches.* The amino acid chelate included in this supplement is better absorbed for greater benefits.*
BosPure® Boswellia is clinically studied and uniquely standardized by reducing beta-boswellic acid and providing higher levels of AKBA for greater effectiveness.*
DLPA supports the effects of endorphins and enkephalins - the "feel good" chemicals in your body.*
Vitamin B6 as Pyridoxal-5-Phosphate (P-5-P) can be readily used by the body because it is already in the bioactive form.* P-5-P is a factor in serotonin production and relaxation.
*These statements have not been evaluated by the Food and Drug Administration. This product is not intended to diagnose, treat, cure, or prevent any disease.
---