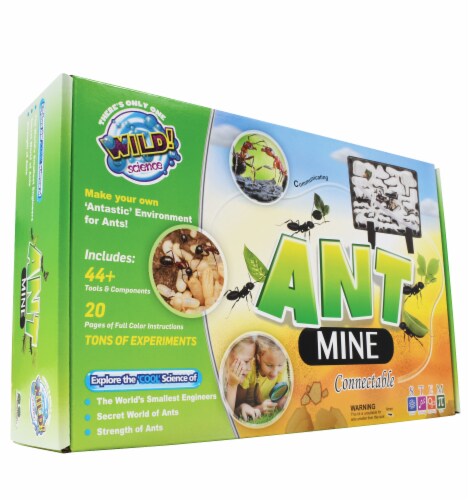 Hover to Zoom
WILD! Science Ant Mine Kit
Product Details
We love ants and we want children to experience these amazing creatures too! By building this ant colony, kids will learn important lessons about the natural world around them. They will learn important beginner STEM skills such as observation, attention to detail and following instructions. In addition, they will learn about one of Earth's most abundant populations. Follow the Education and Instruction booklet closely to construct the ant mine, find out how to care for the ants and be inspired by experiments to understand ant behavior! Adult supervision is recommended.
Includes: Casting plaster, Multi-chamber ant colony mold, Stand, Plexi-window, Rivets and Access Plugs, Cotton Balls, Ant catcher, Plastic straw, Colony interlink tubes, Mask, Pipette and tweezers and Instruction booklet. ANTS NOT INCLUDED.
Size: 10.25 inches L x 7.1 inches W.
Mold and paint your own ant mine with plaster of paris and attach a water holder, ant transit tube and viewing window.
Kids will be fascinated as they search for ants and place them in the ant catcher included. We suggest two ways to transfer the ants to their new home and we provide tips on how to look after these incredible creatures.
We don't use fake/nutrient gels which many ants can't tolerate. We want ants to be healthy and thrive in their new environment! Make sure your ants are 4mm long so they can't escape.
Learn the power of observation! Kids will notice what ants eat plus how they communicate, clean, organize and look after themselves.
The Education and Information Booklet includes several additional experiments for budding Myrmecologists (a person who studies ants)!
---